How about surprising your guests with an Easter set table full of beautiful, unexpected, and easy-to-make details? That's exactly what we have here. Come see!

Easter lunch is always a great opportunity to gather the family around the table with plenty of food, good conversation, and fancy decoration. This year, the celebration will be a little different, because of the social distancing necessary to contain the advance of the coronavirus. But, taking all the necessary precautions, it is possible to celebrate with family and friends who live in the same house, with safety, joy, and a lot of charm!

For the decoration of this Easter table, Oxford proposes a mix & match between two dinner sets. The same concept is applied to the table runners and napkins. And to give an even more original touch, the sousplat is made with a square of synthetic grass!

The flower arrangements are also far from conventional. Instead of being in vases, they occupy vintage champagne glasses. And they are accompanied by baby lettuce in little bowls. It may sound strange, but you will see in the pictures below how well it works!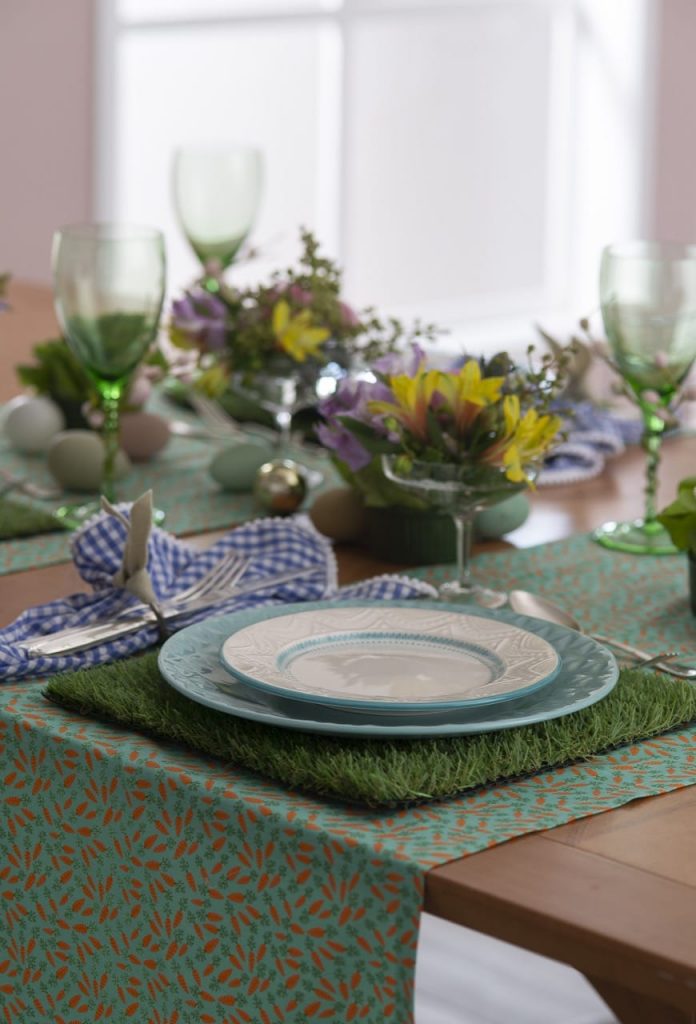 Soft colors, in shades of green and blue, renew the Easter set table. The table runner is used in place of the placemat. The sousplat is a square of synthetic grass, which you can find in building material stores.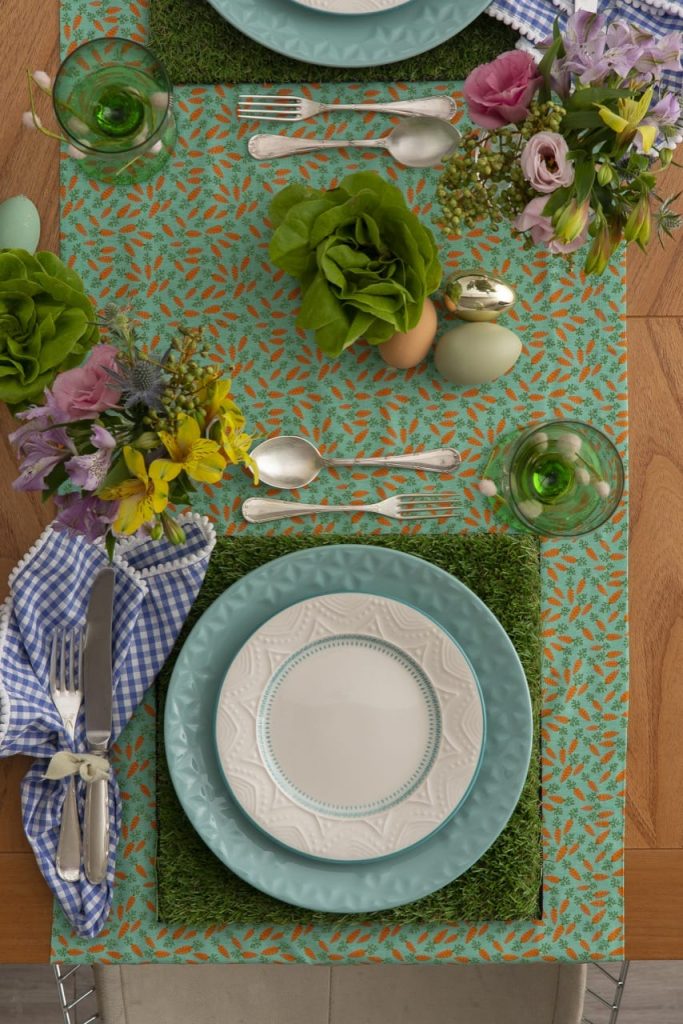 The mixture of patterns appears in the fabrics and dishes. The table runner with carrot print doubles as a plaid napkin. The flat plate Mia Dew, in turn, matches the dessert plate Serena Sky, because both have relief on the edges.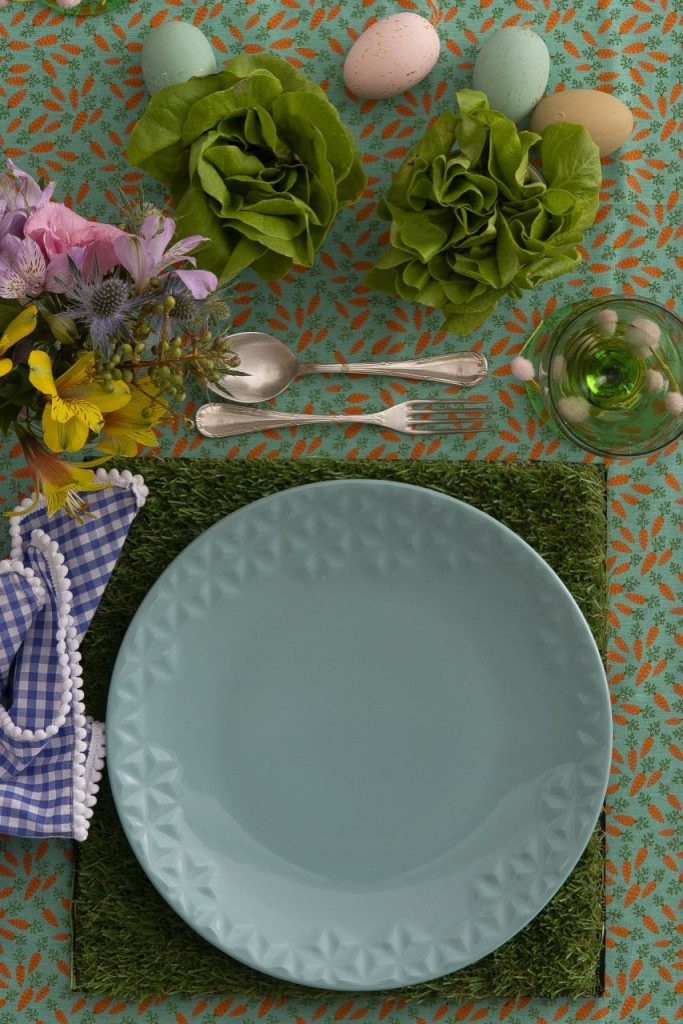 Here, you can see the triangles in relief of the Mia Dew plate, by Oxford. In the center of the table, flower arrangements coexist with baby lettuce and eggs in pastel shades.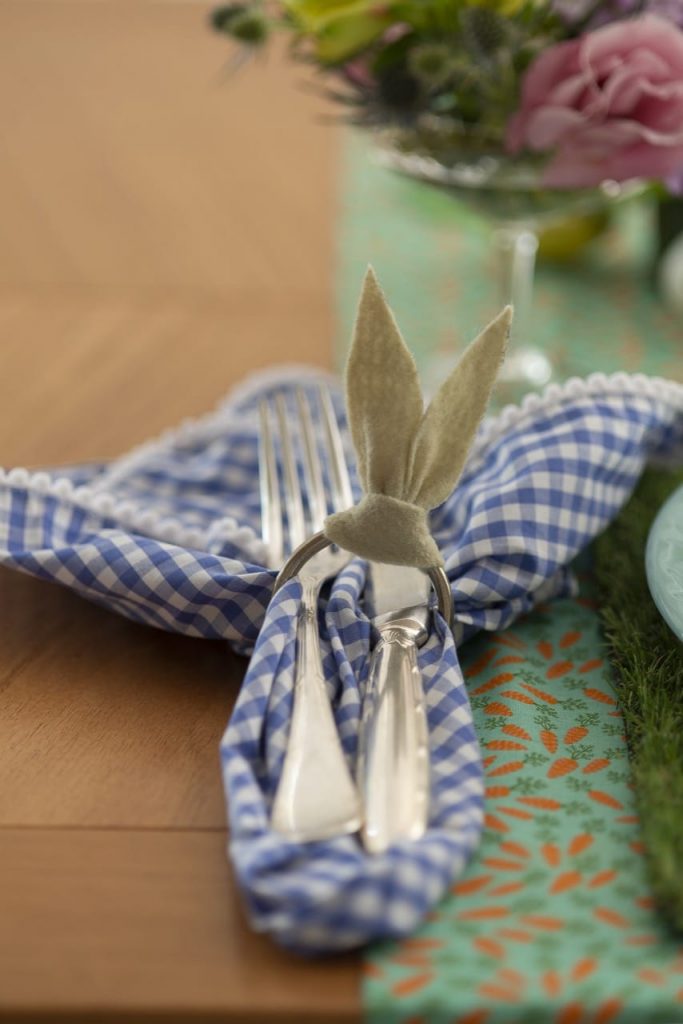 Small details that make all the difference: the napkin ring has little felt bunny ears. Cute as can be!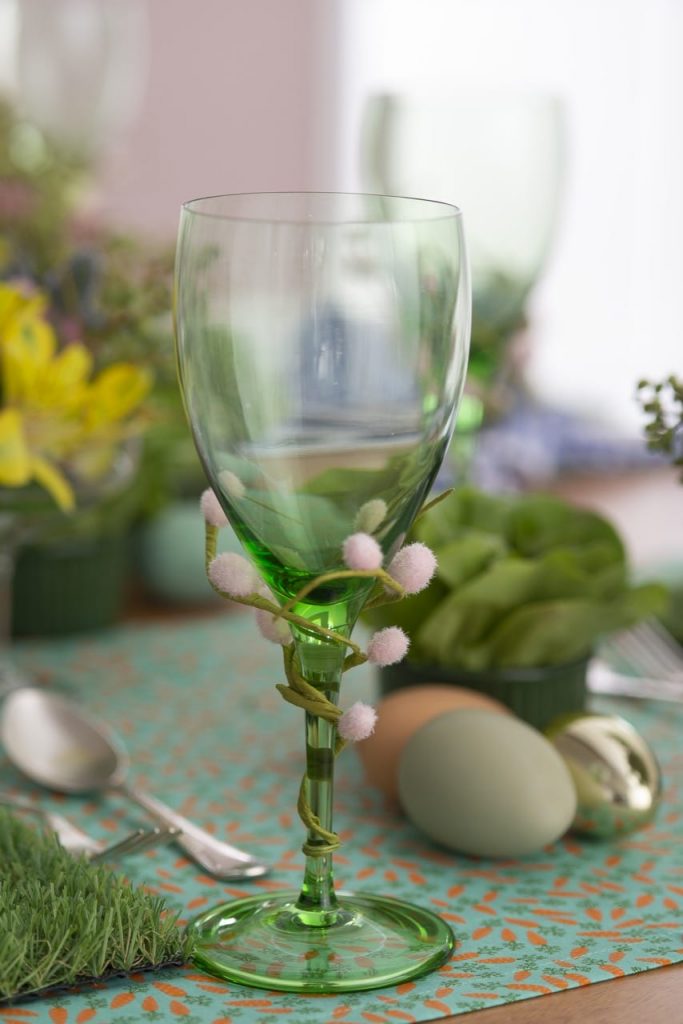 The water glass, made of light green crystal by Oxford Crystal Handmade, is adorned with wired branches filled with small pom-poms.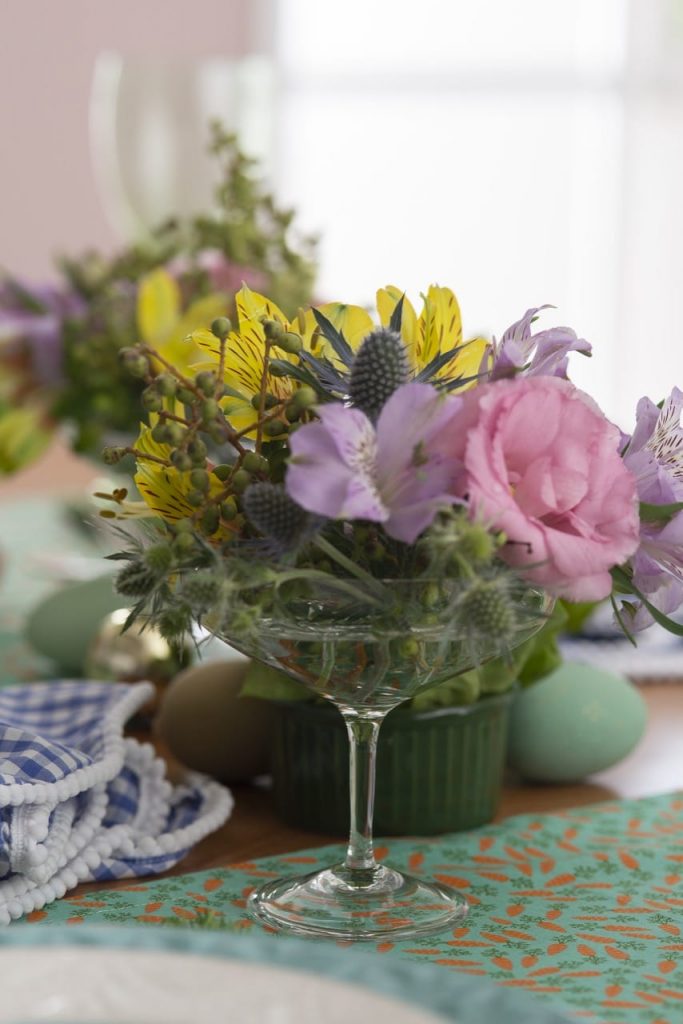 Vintage styled sparkling wine glasses receive flower arrangements such as lisianthus, and astromeliads.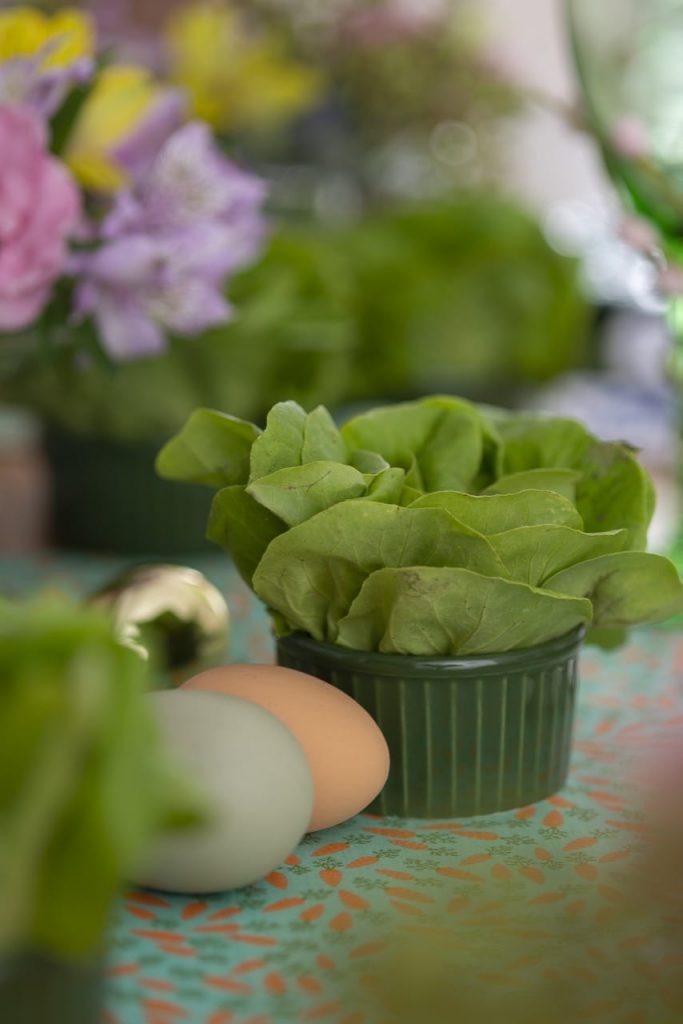 A touch of irreverence is always good to liven up the celebration. In the center of the Easter table, besides flowers and colored eggs, there are small ramekins with baby lettuce stalks.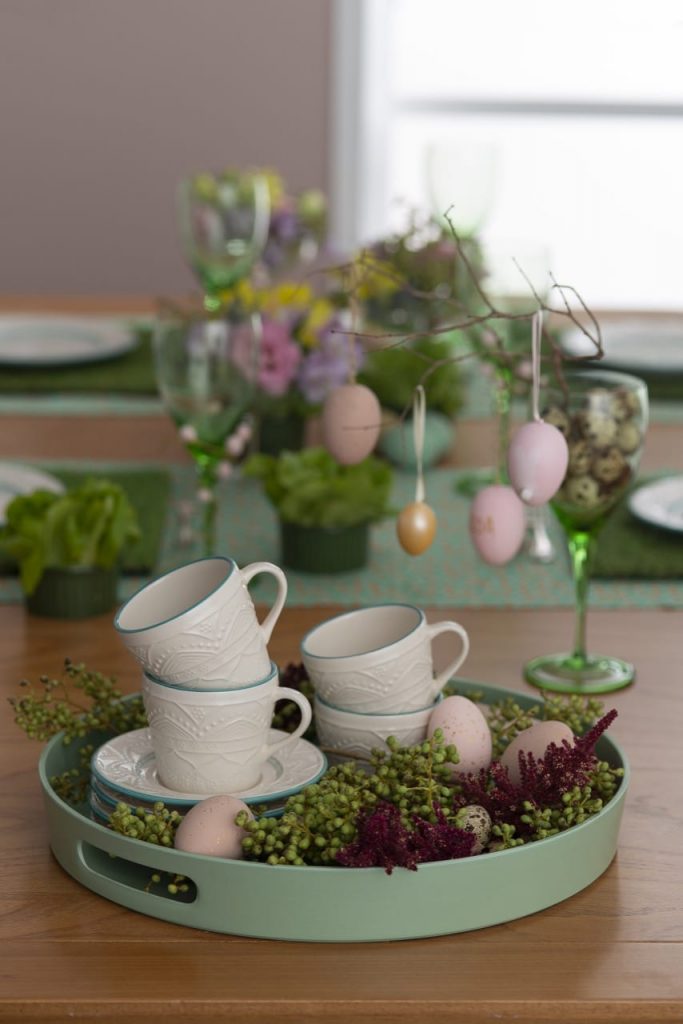 When it's time to serve coffee, the Summer Green tray, made of bamboo fiber, has branches with seeds, flowers, and eggs. It is as if the cups were in an enchanted forest.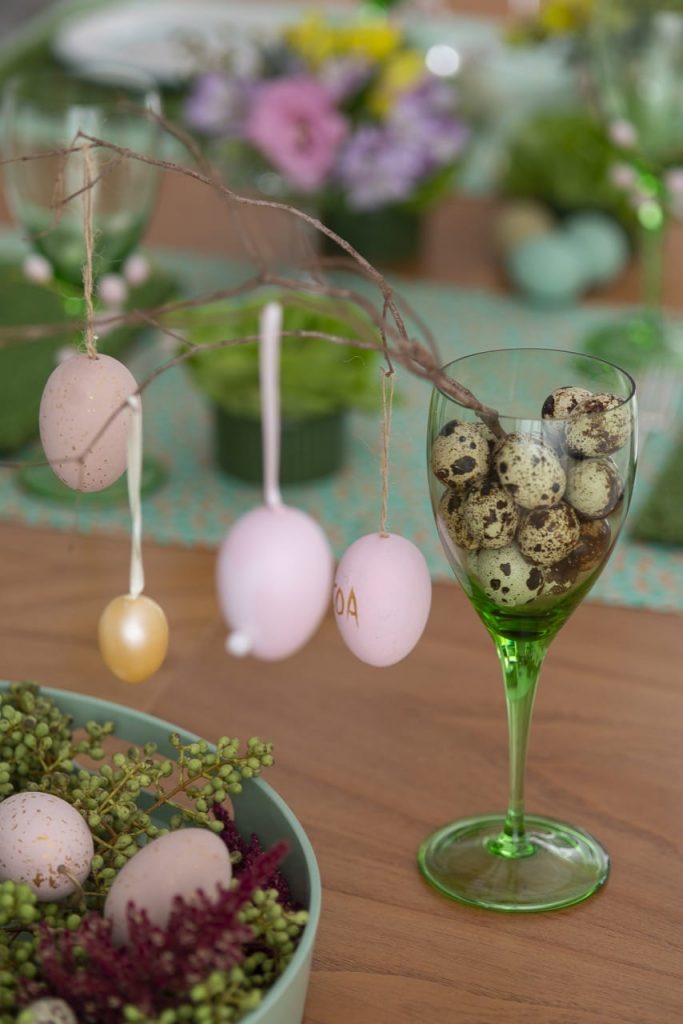 To decorate the coffee corner, a bowl of boiled quail eggs serves as a base for plastic eggs that hang from a stick.
Happy Easter!